Marketing is among the most diverse career paths a business professional can pursue. No matter what kind of background, strengths, or skills one brings to the table, chances are there is a top marketing job out there that would be the perfect fit.
Within today's modern business landscape, there are numerous disciplines that fall under the general marketing umbrella, and it's only increasing in diversity. Some roles lean toward the technical side, such as on-site SEO, paid campaign management, and conversion rate optimization. Others are far more creative in nature, such as video ideation, copywriting, and community management. But the best marketers out there are those who know how to balance the art with the science. And today, there are many disciplines in this area of business leadership that require at least some aspects of both approaches.
Marketing leadership provides many opportunities for professionals willing to put in the work and make their way into senior positions within organnizations. There are a lot of high-paying opportunities out there.
Before you register at one of the nation's best marketing programs within a premier business school, ask yourself a few questions: What does a career in marketing look like? What can I do with a Marketing online MBA? What top marketing jobs are available? What is an expected salary in marketing? This article answers these questions and more.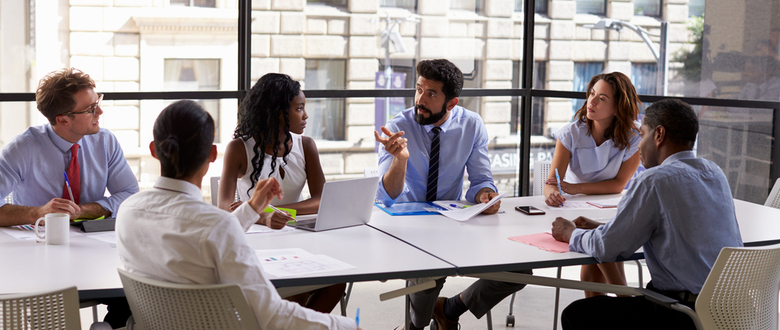 Vice Presidents of Marketing and Business Development lead in developing business and marketing opportunities for their firms, and they are one of the most coveted marketing jobs available. They work to plan and execute sales, help develop new products, and ensure revenue and development benchmarks are met. They must develop strategies to build their organization's customer base, identify potential partners, and implement strategies that achieve their company's goals. Vice Presidents also serve as primary contacts for the company and clients. Most of the Vice President's time is spent in an office, with substantial travel included for meetings, presentations, and discussions with prospective partners and clients. This is a full-time position that features significant overtime required depending on the organization's needs. Vice Presidents of Marketing and Business Development typically report to the organization's president or another top-level executive. Many Vice Presidents work closely with the president on high-level decision-making. This position typically requires at least a bachelor's degree in a related field with at least five to 10 years of relevant experience.
Average Annual Salary: $131,394
Vice Presidents of Marketing and Communications perform various duties related to developing goals and strategies for their organization's marketing and communication departments. They are responsible for working alongside other executives and departments to determine plans and procedures. They also develop effective advertising campaigns across various mediums and generate regular reports and analyses related to a campaign's performance. A Vice President may manage campaigns in multiple foreign countries, regions globally, and various languages depending on the organization. Vice Presidents of marketing and communications work during regular business hours, although overtime is often expected if the business needs so requires it. Some travel may be required. Vice Presidents of Marketing and Communications must work well in a team setting with subordinates and other executives. They must also work well on their own with minimal supervision. Vice Presidents of Marketing and Communications work across many industries. Because of the wide variety of professional environments, specific requirements for this position may vary significantly.
Average Annual Salary: $129,338
One of the primary responsibilities for Vice Presidents of Business Development deals with developing and overseeing company sales and marketing plans. VPs in this field implement new ideas and tools for the organization. They also provide direction and planning for the company's goals and oversee the work to get there. A Vice President of Business Development works closely with management and lower-level employees and salespeople. Vice Presidents of Development are responsible for securing contracts with new customers and managing ongoing contracts. They write proposals for new and existing clients, identify and set organizational goals, and create plans to achieve those goals. A successful Vice President of Development develops and maintains contacts within and outside the organization. These professionals often work a standard 40-hour week during regular business hours in an office setting. They may travel for business. As for education, Vice Presidents of Development typically must have completed an undergraduate degree in a relevant field like business administration or marketing. An MBA continues to be an attractive degree prerequisite for professionals in this field.
Average Annual Salary: $135,814
Chief Marketing Officers are responsible for creating and overseeing the execution of a firm's marketing and sales groups' strategy. Being able to think creatively and innovate in terms of direction for sales and marketing is a must. The ability to communicate direction and how it will be achieved is also vital to the position. While a CMO must inspire their marketing and sales employees in this way, she must also be able to communicate the company's vision to clients and the media using many marketing channels. In all their duties, chief marketing officers must possess and demonstrate exceptional leadership skills. CMOs will also develop and review quantitative analysis measures for an organization's marketing and sales. In addition, a CMO will lay out goals and provide direction for sales team members and marketing teams on ways to measure success towards goals. An influential CMO must assess new hires and other employees in the marketing and sales teams as needed while handling the other varied responsibilities of the position.
Average Annual Salary: $175,389
Senior Vice Presidents (SVP) of Marketing are responsible for developing and overseeing a defined marketing and communications strategy that results in business growth and enhances brand awareness. This professional is typically responsible for staffing, planning, organizing, training, and managing all marketing functions that result in the organization's objectives related to growth, sales, and profitability. Senior Vice Presidents of Marketing ensure their company broadcasts a consistent marketing campaign that aligns with the entity's needs. These professionals usually work in an office environment during regular business hours. They typically report to the Chief Marketing Officer or the Executive Vice President. Most Senior Vice Presidents of Marketing will have completed an undergraduate degree in business or a related field. A Master of Business Administration is a preferred degree for this position. Previous experience in marketing at the senior management level is a bonus for some jobs and a requirement for others.
Average Annual Salary: $185,875
Group Product Managers are responsible for managing a group of professionals from concept to product launch. They oversee the creation of effective product strategies and develop and execute tactical pricing based on demand, research, and project requirements. Group project managers solve product problems as they arise, chart product milestones, and review progress throughout a set period. In addition to these tasks, they work with sales teams to determine customer-specific pricing and help in closing opportunities. These business leaders demonstrate their leadership skills by motivating teams and reaching organizational goals promptly. One of a group project manager's primary tools is a personal computer she uses to structure detailed progress reports, adjust budgets, and communicate with departments through emails and software. Group Product Managers also collaborate with internal teams on increasing brand loyalty, competitive positioning, and market development.
Average Annual Salary: $150,821
Vice Presidents of Marketing are high-ranking executives and board-level directors within an organization who are responsible for determining strategies that improve and maintain the market shares for the goods and services their firms offer. This involves creating strategy in many areas of company assets and products, from branding and advertising to pricing and discount structures. In addition, marketing VPs typically have a department dedicated to researching and providing valuable analytical data on the effectiveness of current marketing and future product development ideas. Operating as director-level executives, VPs of Marketing typically sit on an executive board within the organization and directly report to a division president, chief operating officer, or chief executive. These VPs also supervise managers and directors who oversee the teams that brand, advertise/media, and research and often meet with those managers to receive reports and help communicate the company's marketing vision.
Average Annual Salary: $149,324
Product Marketing Directors work on crafting the positioning and messaging for their organization's products. These professionals are required to develop innovative marketing strategies that drive high demand for their products, and they must oversee the execution of these strategies. Essential skills of these professionals include a keen eye for detail and quality. Product Marketing Directors need to craft appropriate messaging and positioning for products and ensure the product will stand apart from similar products in the marketplace. When a product is finally prepared to launch, Product Marketing Directors must help ensure the launch meets the goals determined by the company. They must also be knowledgeable about the market in which their product exists, including future and current competitors. An undergraduate degree in marketing, business, or a related field is typically required for this top marketing job, as is relevant professional experience in marketing. Product Marketing Directors must possess strong verbal and written communication skills.
Average Annual Salary: $144,501
Group Account Directors main function is to manage client accounts, oversee operations, and ensure the satisfaction of each client. Some might work in close relation to the accounting team of an organization. Group Account Directors work with various organizations, including universities, major corporations, large businesses, non-profits, and government agencies. The primary task of a Group Account Director is to manage and ensure the profitability of their company's accounts. Completing this task requires exemplary marketing, communication, accounting, and management skills. Managing subordinates is a substantial part of this job, and these professionals must also provide training and support for teams. Group Account Directors will often have acquired at least a Bachelor's degree, however, some employers will require a master's degree.
Average Annual Salary: $140,848
Directors of Innovation are often accountable for the leadership, strategic direction, and oversight of the management, operation, and delivery of an organization's innovation and enterprise functions. As part of an executive leadership team, this top marketing job is often responsible for stimulating an environment of innovation while supporting a company's commercial activities. Directors of Innovation identify, create, and manage innovative approaches to business issues and work with teams across an organization to deliver customer-centric products and services that generate revenue for their firms. These professionals also ensure that insights and analysis of the business sector environment they currently operate stay healthy and vibrant. Directors of Innovation lead new thinking initiatives and nurture new ideas from concept to mainstream activity. These professionals work closely with different departments to innovate and develop an organization's commercial strategy and marketing approaches.
Average Annual Salary: $121,545
Action Plans
Here are three action steps to consider as you contemplate a top marketing job:
Talk to a Marketing Expert
If you are interested in one of these exciting and rewarding careers in marketing, begin your professional journey by interviewing some actively working professionals in the field of marketing. Leaders in marketing and advertising can prove excellent sources of information as they have gained so much knowledge through education and experience.
Do Your Homework
Go online and find out what respected degrees in marketing or related business fields are out there. With so many high-quality online MBA programs with a concentration in marketing, graduate students can keep their current jobs while taking courses online. Professionals like Senior Vice Presidents of Marketing often get their starts this way.
Look for Ways to Gain Experience
After completing an undergraduate degree, you may wish to enter the job market immediately. If you have your sights set on an MBA program, keep your eyes open for internship opportunities. They are known for providing valuable on-the-job experience.
Marketing skills traverse borders, and if you're good enough, you can work from virtually anywhere in the world. The skills you acquire during an advanced degree in marketing are transferable into all geographies, which means professionals can relocate with ease. It also means that you can consider going freelance and being a digital nomad by working from wherever you choose. Organizations of all sizes benefit from excellent marketing. Pursuing a career in the field is a great idea.