Hospitality management is an expansive business field that deals with managing hotels, casinos, resorts, and other types of destination spots to ensure guests have the kinds of experiences they will enjoy and want to repeat. The hospitality and leisure sector employs thousands of professionals and is one of the leading industries in the world. While the hospitality industry did hit a huge hurdle during the pandemic, it has since been rebuilding as communities and countries open up. Even without extenuating circumstances, like a global pandemic, hospitality organizations are in need of experienced, qualified, and educated professionals to lead their teams and companies. For professionals with their sites set on hospitality management, a Hospitality Online MBA could be the perfect degree to pursue while gaining experience and planning for their future. Let's dig in!
What Hospitality Management is and Why it Matters
Hospitality managers specialize in various areas, from event planning to guest services to catering services. This can include scheduling, onboarding new staff, and tracking inventory and budgets, intentionally providing a positive experience for clients and guests while keeping an establishment profitable. However, hospitality managers are wise to remain familiar with all departments in their establishment, especially if they seek to move to a higher level of leadership.
Hospitality Managers' Education and Background
Many hospitality managers qualified for their jobs by promoting based on experience in their industry. Some started as clerks, waitstaff, desk attendants, or in another position in an establishment. Having a background in hospitality is helpful for hospitality managers as it shows they have already gained a working knowledge and understanding of what their clients are looking for in their experience.
But is experience without formal training in the field enough? Many organizations require a hospitality management degree or an associate's or undergraduate degree. Some managers get promoted into a management position and then are encouraged to enter business school and earn a hospitality degree like an online MBA. Many hospitality programs allow graduate students to concentrate on a particular area, like food service or a specific type of establishment, like resort leadership. The education MBA students gain from a rigorous degree program sets them up to understand the industry more deeply as they gain skills in improving efficiency, creating and managing wise budgets, and developing risk assessments.
Quality Service Is a Skill, and Quality Hospitality Is a Spirit
What hospitality is most defined as remains an essential question to ask. "Hospitality" means helpful, friendly, accommodating, and generous. While it can be grueling to work in the service industry daily, a hospitality manager is responsible for helping their team and organization create and maintain a warm, welcoming atmosphere. Some would argue that genuine hospitality is needed in many areas of today's hospitality industry.
In a popular TED Talk, Anna Dolce presents the missing element of hospitality. And in his TED Talk, Alex Cabañas explains how to improve when it comes to service in the hospitality industry. Viewers can consider what elements make a hospitality environment feel warm and welcoming.
This Forbes interview with the vice president of sales, distribution, and business performance of Rosewood Hotels and Resorts, Caroline MacDonald, addresses some of these issues in detail. Viewers should note what strikes them about how she describes hospitality within the luxury hotel industry.
Advance in the Hospitality Industry
Professionals pursuing careers in hospitality management have various career opportunities at their disposal. It exists as one of the world's largest industries. Programs in hospitality management give students an overview of the industry and cover positions students might want to consider training for, including travel marketing, tour operations, food service, and event planning. Some online MBA students satisfy all program requirements in a year or less, while most take two years to graduate.
World-renowned colleges and universities offer certificate programs in hospitality management. These programs cover various components of the industry over a few courses. Classes distance students take in these certifications may include topics like general management, understanding financial statements, services marketing planning, building client loyalty, and creating high-performance teams.
What is the History of Hospitality Management
In the Beginning…
People have been traveling since recorded history, and for many civilizations, hospitality played a vital role in society. The hospitality concept is apparent in many religious texts, often connecting the need to care for the traveler or the foreigner to one's spiritual journey and health. We see evidence of hospitality going back at least to Ancient Greece and Rome in the Western world. Ancient people traveled for religious pilgrimages, military, and trade.
Koshu Nishiyama Hot Springs Keiunkan
A little-known fact is that the oldest hotel in the world still in operation is Japan's Koshu Nishiyama Hot Springs Keiunkan. It has been serving guests for over 1300 years. Opening in 705 AD, this historic hotel is famous for its hot springs. Reading more about this hotel and its history reveals more about how it leverages the concept of hospitality to welcome guests each year.
Tremont House
In Europe during the 1700s, there was a rise in hotels built exclusively for housing travelers due to the introduction of faster modes of transportation that made traveling long distances easier and accessible to more people.
The early 1800s could be considered the United States' birth of the hospitality industry when architects designed the first Tremont House in Boston, Massachusetts. From its running water to its private ensuites, the Tremont set the tone for hotels built years later. Boston Magazine offers an excellent article on the influence of the Tremont. Readers of the article will note the ingenuity of Tremont House that we still see in typical hotels today. The Tremont House was innovative as it combined the concept of luxury with the practice of hospitality.
Hospitality in the 20th Century
As more people became car owners and travel by plane became more common, the hospitality industry shot off like a rocket throughout the early and mid-20th century. Many large hotel chains still in business today were founded in the early 1900s through the fifties, including Hilton in 1919, Marriot in 1927, Sheraton in the late 1930s, Holiday Inn and Hyatt in the 1950s, and Four Seasons in the early sixties.
Motels, a fusion of the words "motor" and "hotel," directly resulted from the increase in American intercity travel during the mid-20th century. By nature, they were smaller and priced more affordable than hotels. Built close to highways to make them accessible for travelers stopping for a few hours or overnight, these wonders of the American highway gave drivers a quick and easy way to travel cross-country.
The 1950s through 1980s were the Golden Age of hospitality. This era was spurred by service and luxury ideals and driven by mass tourism. This time was due to Americans' rapid increase in wealth after World War II. There are excellent resources written about the multiple factors that led to the explosion of mass tourism. Today, there are still factors at play in the hospitality industry that are carried over from the 1950s. COVID-19 pandemic effects aside, several things have evolved since forty years ago.
What is the Future of Hospitality Management?
A Stress on Sustainability
Sustainability in hospitality and tourism is rapidly gaining momentum and awareness in business. It is an area that consumers are starting to be more particular and savvier about. The idea of sustainability relates to the environmental aspects of how an organization is developed and run, including the cultural, economic, and social factors. All business leaders can benefit from understanding how sustainability will play a significant role in the future of their enterprise.
The concept of sustainability in hospitality management is wide-reaching. The more organizations explore what genuine sustainability might mean for their enterprise, the more they will discover the massive expansion of things needed to consider. Because of this, greenwashing has become prevalent in all industries, especially in hospitality, when it comes to sustainability.
Today, many successful hotel chains and privately-owned establishments are working towards increased sustainability. There are still more opportunities in the future for more sustainability as eco-friendly technologies continue to be developed.
The Development of Contactless Payment
Before COVID-19, there were many contactless payment options for hotel and resort guests. But the pandemic has spurred on the trend and the need for new hygiene and social distancing policies within the hospitality industry. Contactless payment methods allow guests and customers to avoid paying manually with cash and credit cards by taking away the physical nature of traditional credit and debit card readers and instead utilizing wireless payment methods. Smartphones, debit/credit cards, and smartwatches can be used for contactless payments. Clients simply put their payment method over a payment terminal instead of needing to touch anything. No swiping, inserting, or even keying a pin into a card terminal is needed.
How to Choose the Right Hospitality Online MBA
Are you ambitious? Do you have big plans for your career in hospitality? Pursuing an online MBA degree in hospitality management might be the logical next step in your business leadership journey. While there are many excellent business schools and many MBA programs worldwide, you may struggle to decide where to go for your business training. Since all of the MBA programs available aren't identical, business school experts say it's vital for all MBA hopefuls to differentiate between suitable programs and those that leave too much to be desired, given their situation.
The Art of Choosing a Proper Business School
A b-school's prestige is essential for future MBA students to understand when comparing programs. Still, they will do well to not stress about minor differences between the rankings of one school over another. When considering MBA rankings, potential business students should factor in their target schools' overall rankings and examine specialty rankings within narrower academic disciplines, like accounting, strategy, and hospitality management. MBA researchers shouldn't take school rankings at face value but instead need to dive into the underlying data used to calculate those rankings. The information is published alongside the rankings. A business school's cost figures, employment stats, and recruiter evaluations are all research-worthy.
Programs with comparable quality scores often differ in some ways. One respected business school's mission statement and learning environment can be opposed to that of another excellent business school. All MBA programs have their own unique alumni networks, career service departments, extracurricular activities, locations, school cultures, and student bodies. Prospective b-students should consider all those factors.
What Qualities to Look for in a Hospitality Online MBA
Prospective MBAs should evaluate the information a business school publishes about its core values since those priorities establish the essence of what makes each school unique. Business school leadership lives, breathes, and embodies those principles, and it matters to them. When a school expresses pride in a significant aspect of its identity, it will likely be a defining feature.
Many business schools offer a robust curriculum within a specific business domain – like finance, entrepreneurship, real estate, marketing, or hospitality management – and provide fewer compelling courses in other areas. Other business schools house many exceptional academic departments.
The key is ensuring the curriculum lines up with your goals. If the curriculum features too many courses that struggle to pique your interest, it doesn't matter how respected the school is, as you won't want to commit to the syllabus.
Assertive prospective MBA students will ask current MBA students at their target schools how strenuous their workload is. Students who feel challenged, inspired, and having fun do better than MBA students who are exhausted and overwhelmed.
Questions to Ask:
-Do I want to attend a business school that tests my limits and exposes me to people unlike those I have met before?
-Would I prefer to go to a b-school where I feel entirely in my element and have a tangible sense of belonging?
Teaching Style
Another factor to consider is a B-school's teaching style, as online MBA programs vary pedagogical approaches. Some business schools rely heavily on the case method, which involves classroom discussions covering various business case studies. Other programs offer many lecture courses. MBA students often participate in group projects, and their courses require them to create solutions to real-life issues faced by functioning businesses.
Priorities
MBA students should not focus exclusively on whether a program will help them achieve short-term objectives, like landing a specific type of job. Business school is a long game that pays dividends over many years. After completing an MBA, the first industry professionals work in isn't always the field they spend their entire career in. Professionals should consider the long-term play of their careers. No matter how hard you plan, there will always be something new that may take over a career's trajectory. Prospective MBA students need to think about the skills they wish to cultivate and their career aspirations.
While some MBA candidates want to grow their leadership capacity, others are interested in gaining technical skills in digital marketing, accounting, or finance. As for aspiring entrepreneurs, they may benefit from a professional peer network available within an MBA program. Identifying interests and needs will help guide the search for compatible business programs. Another factor for future MBAs to consider is which type of MBA works with their schedule, as there are part and full-time options. Program cost is another essential consideration.
How to Apply for a Hospitality Online MBA
When applying to business school, online MBA candidates go through a long, meticulous process that may leave some of them feeling confused and overwhelmed. With the pool of applicants becoming increasingly numerous every year, applications need to push candidates far above the competition.
Apply to business school begins with acquiring several things:
Undergraduate degree from an accredited university
Previous transcripts
GMAT/GRE placement test scores
Recommendation letters
MBA essays
There are two main types of admissions: rolling and round admissions.
Rolling Admissions
This type of admissions schedule is where MBA candidates submit their applications before a particular deadline. A rolling schedule means that applications are reviewed on an ongoing basis based on their received order. Applicants should check with prospective schools to determine deadlines. It is better to apply sooner than later.
Round Admissions
This type of admissions schedule refers to where there are multiple deadlines throughout a calendar year. Schools consider all applications in that round before moving to the next. The number of rounds often varies, but there are usually three: fall, spring, and summer.
How Do I Succeed in a Hospitality Online MBA?
1. Create an Ideal Schedule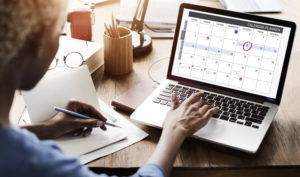 Business students can expect to be active, between all the academic and extracurricular activities involved in an online MBA in hospitality management. Making solid plans before a program begins can help MBA students balance their schedules, making business school run smoother. Distance learners should make sure their schedules allow time for homework and studying after work, social, and other obligations. MBA students can determine which classes are offered during specific terms or times of the day to decide how their schedules can be the most flexible. School advisers can help business students design schedules that work for them and stay on track with program requirements.
2. Choose a Specialization
At the graduate level, business students are often asked to choose an area of emphasis within the business field. While not always required, concentrating on a subject like communication, finance, human resources, or hospitality management can provide MBA students with specialized knowledge and help guide them through their business program and the professional world.
3. Plan Your Workload
When beginning an MBA, business students need to familiarize themselves with their program's overall curriculum. This overview maps out various paths they can take to earn their business degrees and can help them determine which courses they will take each term. Adhering to a general course guideline and knowing when to take required classes can help students keep their schedules healthy and balanced.
Action Plans
1. Hospitality Managers Invest in Ways to Develop Communication Skills
It sounds obvious, even simplistic, but finely developed communication skills for hospitality managers are essential to success in their role and for their enterprise's reputation. While there is a slight difference between service and hospitality, good communication plays a significant role in emphasizing top-notch hospitality. As the industry shifts toward individualized guest expectations and experiences, unparalleled communication skills will be even more vital.
There are unique elements to consider when discussing the need for solid communication in the hospitality industry. Good communicators will appreciate the connection between communication and emotional intelligence. Invest in books and courses which allow you to also develop good communication skills across linguistic and cultural barriers.
2. Hospitality Managers Hone Intercultural Awareness
Hospitality managers need to have highly developed intercultural awareness of the concept of culture. This is true for those who work with international guests and those whose customers come to their establishments with an identical cultural filter. Whether it's similar to your own or not, hospitality managers have to navigate any potential issues with grace, helping their customers feel heard, seen, and valued.
An excellent place to start realizing your cultural awareness is to consider what your own cultural perspectives are. What are your norms, values, and beliefs? Before improving your personal intercultural awareness, it's vital to know where you come from. There are some things to consider while setting this exercise into practice to ensure success.
3. Never Neglect the Details
Much of what makes up excellent hospitality management is the giftedness of noticing details. Consider a typical customer who visits your establishment. What elements do you see about the customer? What are you prone to miss about their attitudes or impressions when they are present? Noticing details can make all the difference if you will have a one-time or loyal customer. As a result, it can help boost your organization's reputation while increasing customer retention.
Quality communication, keen intercultural awareness, and attention to detail—the fact these all center on the customer is what they all have in common. This guide to a hospitality online MBA began by defining what hospitality is, and that is the most appropriate way to close. After all, the world's best hospitality managers are uncompromising in welcoming their guests.
Related Resources:
Guide to a Sustainability Online MBA
Best Marketing MBA Jobs
Best Online Entrepreneurship MBA Programs