A Marketing Online MBA stands as one of the most popular graduate degrees available today. Marketing students learn about consumer behavior and create products and services that those customers will most likely want to buy. Courses within an MBA in marketing cover topics like market research, advertising, branding, and online and global marketing, among many other topics.
What to Expect Within an MBA in Marketing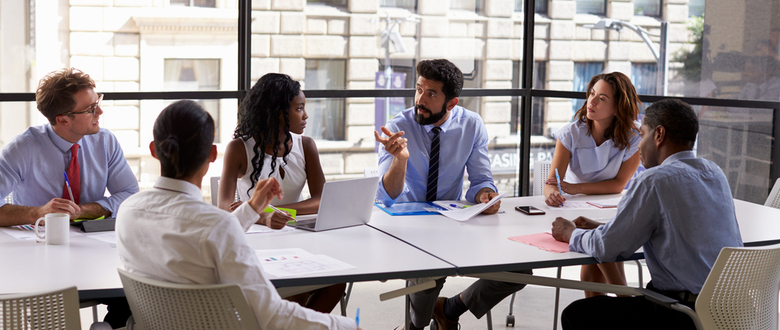 The MBA in marketing prepares graduate students for satisfying careers in marketing. Some career options include general management, consulting, and entrepreneurial careers. A marketing Online MBA teaches business leaders skills they will use in many business fields.
Besides marketing-intensive courses, business students sharpen their mathematics, communications, analytical decision-making, and management skills by taking core courses in business leadership. Because marketing encompasses such a broad scope of business, marketing students have many options for applying what they have learned. Potential courses offered at some of the best business schools in the nation might include Marketing Management, Operations Management, Social Media Marketing, Sales Force Management, and Marketing Channels Strategies.
Career Options for Students with a Marketing Online MBA
Career options in marketing are virtually limitless with an Online MBA in marketing, as all companies and organizations rely on marketing strategies whether they attract employees, customers, or both. Professionals with this stellar degree can start their own businesses, consult, or manage various types of organizations. MBA grads are also well-prepared for leadership positions in the field of marketing.
What is the History of Marketing?
Modern marketing is nothing short of a splendid strategic cocktail containing one part strategy and one part technology. However, it has not always been that way. The history of marketing is a storied tale that includes humble beginnings where makers of things tried their best to sell goods and services with little to no knowledge of getting and retaining customers.
Attempts to succeed in this may be as old as civilization itself. Some believe marketing started when farmers and tradespeople would present goods in a certain way for trading. However, the work to develop persuasive tactics for selling goods and services has been around for centuries. This activity wasn't recognized as "marketing" at the time, but it is where the structure for marketing began to develop.
The Early Age of Marketing
The birth of marketing as it is now understood in the modern era took place during the Industrial Revolution. This period began in the late 18th century and lasted deep into the 19th century. It was a time marked by rapid social change motivated by noteworthy technological, scientific, and sociological innovations.
During the Industrial Revolution, consumers' access to goods improved dramatically, and many families began purchasing items instead of making things themselves. The advent of mass production created many industries committed to serving the needs of a growing consumer market. The infrastructure for mass media as well as transportation took hold. It created a demand for producers to find more efficient ways to develop products customers wanted and a more sophisticated means of informing them about these products.
As Production Increases, So Does Competition
Beginning in the early twentieth century and going all the way to the late 1940s, competition in the business world grew exponentially. The need to increase sales by utilizing marketing techniques became an essential part of staying competitive. As a result, a company's ability to develop a brand and appropriately market it grew exponentially.
The competition in business also created the need to increase production output and market shares within all industries. As a result, marketing started emphasizing distribution methods as well as the varying types of consumer communication. The burden of a brand soon shifted to persuade customers that the goods and services it provided were far superior to those of another brand that happens to produce the same thing.
Tech Takes Over
By the 1970's the mediums of radio, print, television, and telemarketing were in full swing for companies trying to reach their customers. TV overshadowed newspapers in the mid-1990s as the most popular medium for advertising. The 90s would also give us spam emails and SEO. Within twenty years, technology would continue to grow as a marketing tool, and so would the popularity of social media marketing and e-commerce.
How Do I Choose the Right Marketing Online MBA?
Potential graduate students interested in an MBA program that provides solid marketing training should seek one that features technically oriented and communication-focused marketing courses. For many years people have accepted the misnomer that marketing is primarily about merely communicating something to customers. A common misunderstanding about marketing is the erroneous suggestion that eloquence is the most valuable asset a marketer needs for success in the industry. The truth is that marketing has so much more to it than just good communication.
While designing an effective sales pitch to a consumer is an essential aspect of good marketing, it is only one component. Marketers play a valuable role in business discussions when designing a product that will appeal to consumers. Still, they also need to discuss the types of consumers brands need to target with their products.
Marketers can also speak into which product features to emphasize in advertisements and even ways to get products out to consumers. It often comes back to understanding the product and a specific business model to benefit the firm most efficiently and profitably. Marketers have an advantage if they can gain knowledge of the products they are selling and insight into the customers they are selling to.
Some marketing-centric MBA programs focus on a specific type of marketing, such as consumer packaged goods marketing or technology marketing, in which case prospective business students should ensure that the program's concentration aligns with their interests and career goals.
Career Goals
There are numerous types of marketing management roles for which a marketing MBA can prepare someone. As marketing is a comprehensive field, brand management, advertising, product management, and strategy all play critical roles in this industry field. Business-to-consumer marketing is distinct from business-to-business marketing. Furthermore, marketing differs by industry and often sub-sets of industry, so consumer packaged goods marketing is different from luxury goods marketing.
Sound advice to prospective students of an MBA with a marketing focus would be to consider what part of marketing they see themselves getting involved in.
Four distinct career paths have risen to the top of the marketing landscape, and they each require different skills.
Marketers within this area of expertise create products or services that consumers want and invest efforts to drive up demand for those products or services. This area has some profit and loss responsibility for products or brands, meaning marketers are involved with everything from developing the products and their evolution, building a brand online, sourcing, the supply chain, pricing, and overall profitability.
Lead Generation
Experts in this field of marketing learn how to entice consumers interested in an organization's products to share their contact information to be contacted later with offers. This field is all about getting future customers to raise their hands and opt into messaging.
Lead Nurturing
This style of marketing involves cultivating ongoing relationships with potential buyers. Marketers in this career need to acquire the skills of understanding the customer journey and their decision-making processes. These professionals will also become well-versed in influencer strategies, content creation, promotion and amplification, blogging, video production, testimonials, white papers, and email marketing.
Professionals in this marketing discipline discover what consumers are interested in and why they are motivated to want it. They also use data to interpret and evaluate the results of various marketing initiatives. This career involves data visualization, marketing research, database mining, metrics and dashboards, predictive analytics, and software like SQL and R Python.
The types of MBA courses desirable for a particular marketing MBA student often depend on what kind of marketing she is most interested in. Graduate students not sure which career path to pursue are encouraged to find a business school that lets them take any route.
Prospective marketing MBA students do well to look for programs that provide the knowledge they need for the positions they hope to get immediately after finishing their MBA and skills they can use deeper in their career. There is no "one size fits all" type of MBA marketing coursework. Depending on the industry and the role within marketing, graduate students should look for industry-specific courses or specialty pathways that prepare them to become cross-functional leaders.
How to Spot a High-Quality Online Marketing MBA Program
Because of the inherent complexities of the marketing profession and the many issues involved in excellent marketing, a comprehensive marketing MBA program will include a wide range of courses. It's wise for aspiring marketing executives to seek a business school that features courses covering product pricing, technology strategy, new business models, and economics. It's also valuable to have coursework in business analytics, as this topic helps students learn the quantitative skills needed to gauge consumers' preferences and understand consumer behaviors.
Prospective online marketing MBA students should seek answers to the following question over each program they are considering:
Does this program teach what I want to learn in the way I want to learn it? It is also essential to research a program's marketing placement statistics and see whether a business school's marketing MBA recipients get the same types of jobs they expect to get. Solid placement in marketing functions and within companies known for their marketing would be a strong indicator that a business school provides adequate preparation for careers in marketing.
Another consideration is the geographical location of the MBA program, and whether that region is somewhere that provides abundant networking opportunities and marketing internships. Cities like New York City, Seattle, or Los Angeles will be major draws for leaders in business education, and even online MBA students will benefit from seasoned professionals who teach marketing at some of the nation's best business schools. Universities not in regions with plentiful marketing career options do well to offer trips for students to gain needed exposure.
The availability of formal Online MBA concentrations in marketing is vital to some prospective MBA students who lack prior marketing work experience. Pursuing one of these MBA emphases allows them to show employers they possess expertise and interest in marketing. It often depends on one's background. If an MBA hopeful has marketing work experience, a specialization in the field may be less valuable for that professional than for someone lacking that experience.
It may prove worthwhile to see if many of a business school's former students work as chief brand officers or chief marketing officers. It's helpful to investigate the proportion of marketing alumni working in various industries, such as the tech and retail sectors, and specialize in multiple marketing types like digital and brand marketing.
Essential things to consider when investigating business schools that offer marketing degrees are the volume and type of organizations recruiting their students for marketing positions and their marketing alumni network condition. MBA schools publish employment reports that list the number and percentage of students working as interns and within full-time roles in marketing. Researchers can also find out their median compensation and the specific companies that recruit students. Aspiring marketing MBAs need to discover if business schools offer opportunities to network with working marketing professionals and if the schools provide other marketing-related career programs. It's also essential to make sure that the business school you land on offers hands-on learning opportunities. MBA programs that give hands-on experiences like consulting projects adequately prepare graduate students for the real world – and will allow distance learners to show that they've successfully marketed a product.
How Do I Apply for a Marketing Online MBA?
When applying for an MBA program, it's important to remember that the experiences and lessons that comprise the education will empower your future career. But before you take charge of the business world, you need to venture through the application process and fulfill specific requirements.
Since applying for an MBA is a milestone in your academic, professional, and personal life, here are a few things to remember during the process:
1. Take Your Time Choosing the Perfect MBA Program
There are many options to consider when applying for an MBA. Are you looking for the convenience and flexibility of an online MBA? Will a traditional on-campus program meet your needs? Considering your schedule and cost constraints will often help influence your decisions. While there is a lot of information on a business school's website, contacting admissions professionals is the best way to get answers to your essential questions about a program.
2. Gather the Application Materials Including your Transcripts
An accredited bachelor's degree is a vital prerequisite for any MBA application. Take time to request official transcripts as evidence of your degree. Many programs at some of the nation's business schools do not require incoming students to have majored in business at the undergraduate level. These students will often need to take some leveling courses in accounting, finance, and other topics to prepare them for the rigorous courses of an MBA.
3. Find Out if Your GPA Makes the Cut for Admissions
Your grade point average (or GPA) is the number that represents the average value of your final grades earned in your undergraduate academic career. Your GPA is the total of your accumulated final grades divided by the total number of grades awarded. Your GPA is awarded on a scale of zero to 4.0. A 4.0 score represents an optimal GPA score. You will discover that most business schools require a GPA score ranging between 3.5 and 3.7 for their incoming program candidates. Check with the business schools you are most interested in applying to, to determine the exact score you should be aiming for.
4. Prepare for the GMAT
Most MBAs include the GRE or GMAT as part of their application processes. The GMAT is a valuable screening tool for business school admissions representatives who are bombarded with many highly qualified candidates each year. Potential MBA students should also consider the GRE as a viable placement test option. After researching both tests, if you feel the GMAT is too strict, the Graduate Record Examination (or GRE) may be a viable option. The GRE test includes questions that reflect the thinking you'll do in graduate or business school.
5. Stand Out with an Impressive Resume and Record of Professional Experience
Solid professional experience shows that you are ready to improve your skillset with a degree like the MBA. This is even more reason to develop a sharp and polished resume that presents your professional achievements in the best possible light. Spend some time discovering what impressive resumes consist of and utilize wording that speaks to the quality of your academic and professional experience.
How Do I Succeed in a Marketing Online MBA?
Many students complete an online MBA in marketing in 12 months to three years. These programs are marked by rigorous coursework and incredible future opportunities for graduates. Here are a few things to remember as you consider what it takes to stay focused and determined through business school:
1. There is No Room for Comparison
Unlike your undergraduate education, in business school, you will always be surrounded by other bright-minded students. Comparing your performance to that of your marketing peers is futile and can be frustrating. Since every student comes from a unique academic, professional, and cultural background, baselines vary. The best way to measure your performance is to set an individual baseline and compare your academic progress against your personal benchmark. You will quickly realize that your growth as an MBA student and as an individual is enormous, which is its own reward. While your program may seem competitive in nature, it is essential to remember that the overall MBA experience is not a competition. You are in business school to achieve some particular career goals, not compete against fellow students.
2. The Quest for Perfection is a Fool's Errand
As you dive into your MBA courses, it is easy to get overwhelmed by the sheer amount of information you will be responsible for knowing. An excellent tip to remember is that you don't have to master every new concept as your instructors introduce it. When you enrolled in business school, you signed up to gain business understanding, acquire new tools and skills, and take steps towards becoming a leader. Many of those steps involve making mistakes which are valuable parts of the process.
3. Practice, Practice, Practice
Setting up informational interviews is a great way to get the most out of your MBA experience. These are mock interviews, which provide a wealth of information about a career or an industry you are interested in. Set up an interview with an industry insider or look within your network to get an expert to answer questions you have about their professional experiences. The conversation and Q and A, which occur outside a formal interview environment, will give you valuable information that you would otherwise not enjoy. Ask these business experts what they do, how they got their start, and what advice they would give to potential business school students.
Action Plans
A Marketing Online MBA is an excellent idea for your professional future. While this guide has been designed to equip you with introductory information about what the distance degree entails, how marketing has developed over the years, many things to consider while applying to a marketing program, and ways to successfully navigate life at business school, the following action steps for you to consider are essential as they will introduce you to marketing programs available today and motivate you to apply to a program.
The first step toward a top-notch online degree in marketing is to get online and find programs that meet the requirements of your professional aspirations. Online MBAs in marketing are game-changers. They allow graduate students to learn from distinguished professors at business schools in other states while still affording learners the chance to keep their current working positions.
Once you find a batch of programs that tick the boxes, contact those schools' admissions office representatives and get answers for your specific program questions. The nation's best business schools provide career counselors and admissions experts who will help inform and encourage you as you discover the online marketing program of your dreams.
Related Resources:
Guide to an Economics Online MBA
How Can I take Free Online MBA Courses?
Top Online MBA Programs
Reasons to Get an Online MBA