Sports management focuses on the business attributes of sports. Many working in this industry have obtained a sports management degree like an online MBA in sports management. Individuals working in this industry deal with the budgeting, planning, organizing, and managing aspects of a department or organization whose primary directive relates to sports or physical activities.
Business leaders in sports management handle the behind-the-scenes features like event management, finance, marketing, leadership, and facility management. Sports management relates to nearly all types of levels of sports, including professional sports, municipal recreation, private organizations, college-level athletics, social organizations, government athletic activities, and amateur sport.
What is a Sports Management Online MBA?
Potential business students interested in working in the sports industry and stressing the business features that support sporting activity operations should pursue a sports management online MBA degree. These programs provide distance learners with a solid understanding of business, management, and sports and how these worlds work together. Graduate students receive instruction directly related to business and sports topics. Most programs include substantial practical experiences that relate to managing sports organizations and sporting events. Some degree programs enable online MBA students to focus on a particular area of the sports industry like sports tourism, sports facility management, golf management, sports marketing, or sports communications and media.
What are the benefits of a Sports Management Online MBA?
Sports management programs provide graduate students with various benefits, including working with a wide range of professionals who share a shared passion for sports while becoming an essential part of a sports organization. The degree also provides valuable experiences, and it is not relegated to one specific geographic location since sports are prevalent worldwide. Students in sports management MBAs complete courses that focus on intercollegiate and professional sports, the business aspects of sports, and information about sports. They are also exposed to courses that speak into sports law, sports ethics, sports marketing, sport finance, and the management of sports facilities. Sports management degrees are offered at the undergraduate, graduate, and doctoral degree levels.
Undergraduate degree programs prepare students for entry-level sports management careers and help graduates get their professional foot in the door. Graduate degree programs like MAs, MSs, and MBAs provide a more in-depth study of the field, and graduates are aptly prepared to seek upper-level positions and advance in their current positions. Doctorates enable students to become experts in sports management and pursue professional opportunities, with most positions available in research and academia.
What Are Some Popular Careers in Sports Management?
The steady growth of the United States' sports industry has fueled a demand for sports management professionals. Today, sports-related businesses are ranked in the top-fifteen sectors in the nation. Career opportunities for graduate students trained in sports management vary from pursuing positions with professional sports teams to working for a local non-profit organization. Some popular types of careers include:
Sports/Team Scouts
These professionals are responsible for assessing amateur and professional athletes for talent, skill, and potential success in a particular sport. Sports scouts typically work for academic institutions that have amateur teams and professional sports organizations. They pursue athletic talent by consulting with high school or college coaches, scanning local newspapers, and observing players' performance to evaluate their skills and future potential. Many sports scouts meet with young athletes and their families to better understand their background and personality. After evaluating players, sports scouts report data and recommendations back to teams and organizations that analyze prospective value to the team. Sports scouts typically earn approximately $44,000 per year.
Sports Marketers
Sports marketers handle buying and selling brands, individual athletes, teams, or sponsors in the sports world. These professionals create awareness and influence advertising for clients to promote them and make them stand out. They often utilize various mediums to advertise their clients, like social networking, public relations, media interviews, public events, and endorsement deals. Sports marketers coordinate with their clients to determine needs while implementing campaigns in the most effective ways. They may also conduct surveys to identify the best markets for promoting their clients. A sports marketer's average salary is approximately $76,000 a year.
Sports Facilities Managers
These professionals run all operations of sports facilities, from small gymnasiums to large football stadiums. Sports facilities managers oversee the daily operations and organize maintenance and other activities required for practical function. They maintain the safety and quality of playing surfaces while implementing specific procedures to ensure all participants and spectators at sports activities are kept safe. They prepare annual budgets and estimate operating costs for facilities. They may also keep track of equipment and delegate repair and maintenance tasks. Sports facilities managers are also responsible for ensuring an effective security system is in place. The average annual salary for sports facilities managers is approximately $80,000.
Sports Managers
Sports managers direct the overall scheduling and oversight for sports organizations and individual athletes. These professionals act as intermediaries between teams and players while presenting a positive public image for clients. They concentrate on all business and organizational aspects of sports to enable clients to focus on the game and do their best to win games. Sports managers ensure that their clients are getting adequate attention and training for peak performance. They work for many entities, including sporting goods organizations, amateur and professional sports leagues, academic institutions, and sports marketing companies. The median salary for sports managers is approximately $48,000 each year.
Athletic Directors
These professionals provide leadership in all types of sports organizations, from secondary schools to college athletic departments. They oversee all operations within an athletic program, including hiring staff, facility management, and budgets. They work with and provide direction for the team to create schedules for practices, games, and tournaments. Athletic directors allocate funding for travel, equipment, maintenance of facilities, and staff member salaries. These professionals also work with leagues and conferences to schedule events and activities. Athletic directors average just over $63,000 annually.
How Do I Choose the Right Sports Management Online MBA?
Online MBA programs are well respected and internationally recognized. These advanced business degrees focus on developing the skills and knowledge needed for careers in business. MBA students learn the power of big-picture thinking, strategic decision-making, and core aspects of business management.
Core coursework within an MBA includes business law, accounting, finance, economics, marketing, and management. Concentrations may include business analytics, management information systems, healthcare management, entrepreneurship, and supply chain management. Most MBA students acquire several years of work experience before pursuing an MBA program, with graduates commonly working as consultants, operators, marketers, and financiers.
Some potential b-school students are unaware that online MBA programs offer the same rigorous curriculum that their on-campus counterparts do as instructors tailor coursework to online platforms. Technology allows location-independent study, opening various attractive educational options for MBA students. A distance-based MBA affords students the chance to attend an out-of-state school without the hassle and expense of relocation. It also permits professionals to have more control over their pace of study.
How is an Online MBA Delivered?
Schools dispatch coursework for online MBA degrees through learning management systems (LMS) — software platforms like Blackboard or Moodle — where teachers administer course content and post material that enrolled business students can access. The LMS framework integrates cloud-based services and tools like lecture capture, interactive video, text chat windows, web conferencing, streaming video, and audio discussion forums. Students can access textbooks electronically through an LMS, with opportunities to listen to textbook material through voice recordings.
Instructors release assignments through an LMS, and online MBA students submit completed work within the platform, minimizing reliance on email. This can involve submitting recorded presentations or delivering them in real-time through a webcam. Instructors enable class conversations and allow dialogue for specific assignments, encouraging relevant discussions for reference.
While students can view asynchronous lectures anytime, interactive classroom sessions, known as synchronous sessions, require live attendance and interaction between instructors and students. Synchronous meeting participants need a URL and connect through the LMS to join the meeting. They can raise a virtual hand to ask a question at any time during a lesson.
Online MBA students have the chance to take exams at testing centers or through virtual testing services. Fees may sometimes apply for proctoring services. Instructors can also elect to grade tests and assignments manually or automatically. Some instructors prefer asynchronous communication to accommodate students living in different time zones or divide group assignments, enabling individualized completion.
How Cohorts Work in an Online MBA Program
Cohort models consist of students who progress through an MBA program and curriculum together within a shared learning process and then graduate as a group. Students are sorted according to similar aptitudes and career goals. Cohorts establish career-building networks of connections that can help distance learners succeed after graduation.
Benefits of the cohort approach include an ongoing sense of community support, increased teamwork, resource sharing, and a priority of collaboration over competition. Without a cohort, students select courses independently of other students and typically encounter different student groups in each class. Online MBA programs that facilitate cohorts throughout an entire course of study establish diversity of gender, background, nationality, and work experience. Some schools enlist second-year cohort students to offer peer assessments and coaching support to first-year students. Some schools provide abbreviated on-campus residencies for cohort team building.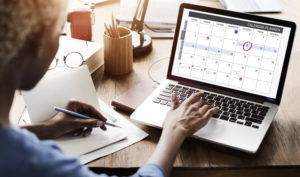 Most online MBA programs involve two years of study and between thirty to sixty credits. Some programs allow the flexibility of up to six years for degree completion. Accelerated intensive programs permit eligible students with business backgrounds exemption from foundation courses and offer the chance for online MBA completion in just about a year of full-time study.
Depending on the course load, students may find a route to graduate ahead of schedule by pursuing more credits each term. A typical online course load is one three-credit core course over five weeks. Some programs offer completion opportunities of six or more credits per period.
What Can I Expect to Pay for an Online MBA Program?
Tuition rates for on-campus and online MBA programs at a college or university are often identical. Yet, online programs offer other money-saving benefits, including fewer fees, transportation cost savings, and the chance to pay in-state tuition regardless of where students live. State-subsidized public schools typically cost less than private schools, though private schools offer more financial aid options. The prestige of a business school also affects the cost of an advanced business degree. MBAs from Ivy League schools come with substantial price tags. Potential b-students should research all their online options to find affordable school choices that work for their needs.
How Do I Apply for a Sports Management Online MBA?
Future MBA students applying to the nation's top business schools may feel they face a daunting task. Each year, prominent MBA programs turn down three of every four program applicants. The numbers are even more severe at schools like the Graduate School of Business at Stanford and Harvard Business School. Stanford rejects nearly 95% of its applicants, while Harvard only accepts nine out of every hundred.
So, how does one sway the odds in her favor? Much like top-shelf undergraduate admissions, getting into an elite MBA program can be a lot like a marathon. Random and subtle attributes can influence a b-school's decision on whether to admit or deny. Even some of the most outstanding candidates are denied admission each year. Within all the top school's candidate pools, much self-selection occurs, so applicants compete against impressive candidates. It's commonly known that as many as eight of ten candidates in a business school's applicant pool are qualified to attend and have the real potential to do well in a discerning MBA program. Yet, no elite business school admits 80% of its interested applicants.
Here is what it takes to make the most of your sports management online MBA application process:
1. Do Your Homework and thoroughly research your programs and business schools. Do not haphazardly apply based on an MBA ranking alone. Every business school maintains a detailed website, and it is vital to see how each program communicates and presents itself. However, think of these websites as advertisements and an ample opportunity for a b-school to make its best first impression. The next step is to read up on an in-depth and objective third-party report on the school and its online MBA experience.
2. When interacting with business school leaders, pay special attention to what admission directors say about their schools and the educational process. Many of them maintain blogs on their school websites, and some participate in open forums that are transcribed and recorded. While you can expect some subjective material, a casual conversation that is open to the public is where you can more easily evaluate the difference between candid feedback spin. Events like the CentreCourt MBA Festival gather MBA gatekeepers at schools like Indiana Kelley, London Business School, MIT Sloan, and Duke Fuqua to share information about their programs. Another event worth attending or reading up on is The MBA Summit at Michigan's Ross School of Business. At this event, the MBA admission representatives from Ross, Yale, and Berkeley provide uniquely fresh perspectives on their schools and application processes.
3. Interview current students and alumni to discuss the programs you are most interested in joining. Ask them what made them stand out in their applications to the school. Every school administers an ambassador program of student volunteers who speak with candidates. Take advantage of this resource which offers a realistic and relevant glimpse into a program's content and context. This is also a way to understand what former students think of the MBA program and gain advice they offer current applicants. Poets&Quants publishes a Meet the Class series that is a resource for candidates. The series gives future MBA students an idea of each school's ideal candidate. Most importantly, current students provide insights as to why they landed on the business school.
4. If standardized tests present a challenge, consider resources to help you get the best scores possible. Hire a tutor if you can afford it. Business school applicants need to have solid GRE or GMAT scores to get into an elite MBA program. But even a 780+ GMAT score won't get applicants automatically admitted to a premium school. Berkeley Haas refuses nearly 60% of its applicants who report a 750 or higher GMAT score. Take practice tests to get used to them and discover what your range is. Spend time researching schools to find the right fit for you. It's less about finding the school that's the shiniest and more about finding the one where you will thrive.
How Do I Succeed in a Sports Management Online MBA Program?
-Be as Specific as Possible about Your Educational and Business Goals
Some online business school students savor the chance to study remotely without ever stepping foot on a college campus. In contrast, others enjoy the short residencies and international travel that advanced programs sometimes offer. While it is acceptable not to have any concrete goals for your experience within a program or a set career plan once you graduate, it will prove valuable to begin thinking about them as soon as possible. MBA students have to create a schedule that allows them to pursue goals.
Networking can begin long before you even enter business school. During the fact-finding time of your online degree hunt, take note of the professionals in business and education that you interview. This could end up being an essential part of your finding your dream job. Get in the practice of breaking out of your comfort zone and encourage yourself to be bold. Reach out to people and remember that most of today's jobs are landed through quality networking. Start by using LinkedIn to find professionals and alumni in your fields of interest and nurture those relationships.
-Hone your Industry Knowledge
Your interest in sports management may mean you do not have a business background. Many excellent online MBA programs accept applicants each year who lack an undergraduate degree in business. Start by becoming familiar with business language. Read news outlets like the Wall Street Journal, The Economist, and Financial Times. Continue to expose yourself to outside learning sources as you gain knowledge and skills within your online program.
Action Plans
With an incredible amount of access to resources and flexibility, today's online MBA students enjoy many benefits, both during their coursework and after graduation. This is making online programs more attractive than their traditional on-campus counterparts for many students. Here are some action plans you can take now to begin your journey of pursuing a distance degree.
1. Take Advantage of an Online MBA's Accessibility
Accessing online lectures and other resources anywhere can make a substantial difference to your experience. Choosing the best study locations that match your learning style means you can practice your MBA studies through travel, job transfers, relocation, and other life changes without missing a beat.
2. Explore Your B-School Options
Maybe you are interested in a program that includes international residencies with long periods of online study or are more interested in a dual-degree option or specialization. Online MBA students are not limited by state of residence restrictions. Distance learners pursuing an online MBA find programs with no regard for geographic limitations.
3. Seek a Diversity Program
Online MBA programs, including those focused on international business and globalization, offer many networking opportunities with fellow students worldwide. Online learners who thrive in diverse environments but live in areas without much diversity find their educational experience very satisfying.
4. Look for a Program that Offers Excellent Use of Technology
Online programs rely on assignments, syllabi, reading lists, textbooks, and announcements in digital format. This structure frees students from worrying about lost, forgotten, and misplaced study materials. Many MBA students find that online formats feature opportunities for class meetings with fewer interruptions, increasing the chance for all students to participate.
5. Find an Online MBA that Features Access to On-Campus Resources
From corporate recruiter networks to career services, many business schools prioritize providing on-campus resources to distance learners. Whether you need guidance from the writing center, technical support, or transcript copies from the registrar, you should expect an online program to provide equal access.
This guide has been presented to provide the potential business school student with facts and perspectives that will prove valuable when considering a degree like the online MBA in sports management. The field of sports management is an exciting one that has a lot to offer. Graduate students who love sports and a desire to see their management prosper will thrive within this advanced business degree.
Related Resources:
Guide to an Economics Online MBA
Top Online Healthcare MBA Programs
Top Online MBA Programs
Best Marketing MBA Jobs
Top MBA Admissions Consultants