If you want to complete free Online MBA courses, there are several ways to achieve this goal. The first option is to take MOOCs. MOOC stands for massive open online course. These courses are delivered online and accessible to all free of charge.
Where are these online programs coming from?
Universities create most MOOCs. Some of the most active MOOC creators are MIT, Stanford, Columbia University, and Harvard University. There are also MOOCs that are made by companies like Google, Microsoft, or the Linux Foundation. Even though universities create MOOCs, it is rare for them to be distributed through the university itself. The following is a list of three of the top MOOC providers that offer free Online MBA courses for tomorrow's business leaders.
Edx
Edx is an e-learning community that brings together more than 160 top universities like Harvard and Berkeley. It provides free and affordably priced courses and certificates to students from all backgrounds. There are currently over 3,000 courses and more than 300 online programs to choose from.
Edx was founded by professors from MIT and Harvard and, to date, has served nearly 35 million learners. Some of the benefits of edX courses include:
the ability to complete an accredited certificate,
an opportunity to learn from top business programs and companies, and
options to learn at your own pace.
This platform is ideal for students looking to sharpen professional skills. Individuals can review MBA-related topics and learn more about specific areas covered within Online MBA programs. Among the many Online MBA topics to discover on Edx, students can pursue free online courses in:
marketing management,
business ethics,
business analytics,
supply chain management,
business law,
management skills
financial accounting, and
international business.
Coursera
Coursera is an online course website. It highlights graduate-level courses from elite academic institutions from around the world. The majority of courses are free of charge. It includes top-shelf paid and free Online MBA courses and certificates. Users can also bundle classes to create a certification at an additional cost. These certifications can easily be added to LinkedIn profiles or added to resumes.
Some colleges and universities will accept Coursera classes for credit once students are admitted into their Master's of Business Administration program. Some of the courses available that would benefit OMBA students are
Courses vary in length and skill level, and there are many business-related topics to choose from. Students work through each class by
watching lecture videos or presentations,
doing reading assignments,
taking quizzes, and
participating in discussion boards.
Udacity.com
Udacity is another one of the leading MOOC providers. The site has served nearly 12 million learners and is constantly adding to its catalog of over 200 courses. Not all of Udacity's courses are free. However, they do offer micro-credentials which are called Nanodegrees. Parts of Nanodegrees are often released free of charge.
A unique aspect of Udacity is that its course offerings are intensely focused on the job training. Nanodegrees highlight in-demand skills that are generally related to the technology industry. Courses are made up of videos, projects, and other assignments. Many of the Nanodegrees are created in partnership with well-known universities and companies like Georgia Tech and Microsoft. A few of the current free courses on Udacity are Intro to Cloud Computing, Craft Your Cover Letter, and several that cover interview preparation for specific IT positions.
Questions About MOOCs
How Do They Work?
You may be wondering, how does this MOOC thing work? Each course and course provider offers a different learning experience. Some MOOCs allow students to start at any time, while others are only offered every few weeks or during certain times of the year. The format of MOOCs is also unique. Many classes are offered asynchronously, allowing students to complete the class entirely at their own pace.
Conversely, some follow a strict schedule with set deadlines. While this type of MOOC is a more serious commitment, the synchronous options keep participants focused and on track which may be helpful for those who are new to online learning.
How Long Do MOOCs Take?
Massive open online courses can last anywhere from a few weeks to several months. The amount of time and work needed to accomplish course goals will vary significantly from person to person. Work in a MOOC is not graded in the traditional sense. There may be feedback-based assignments or automatically graded multiple-choice quizzes. But in many cases, the overall goal is to complete the course to the best of your ability vs. getting an "A."
Who Can Enroll in a MOOC?
To begin taking a course in one of these top online MOOCs, you will need to create an account. This process is easy. Like most other accounts, you just need an email and a password. Then you will be able to search through the hundreds of courses and find one you are interested in. Once you find one, you are then able to choose whether you want to proceed with the free version or a paid version. Just note that the payment mode may unlock additional features throughout the course.
How Do I Enroll in a MOOC?
MOOCs offer two types of enrollment, free auditing and paid enrollment. Those who enroll in free auditing are granted access to all course materials for free but do not receive graded assignments or a verified certificate at the end of the course. Paid enrollers can participate at varying levels by completing certificates, specializations, Mastertracks, and more. Typically, certificates are the least expensive option. While they do not equate to an entire Master's of Business Administration, they show prospective employees or MBA admission boards a commitment to professional development.
Do MOOCs Count as College Credit?
While the free online courses will not count toward anything, except personal development, there are some universities that will give you college credit for taking one of their paid courses or specializations. Each college will be different and have different payment structures, so be sure to read the fine print.
Why Take Free Online MBA Courses?
There are many reasons why someone would take free Online MBA courses instead of signing up for a full Online MBA program. First, taking a free course within a MOOC can give students a sneak peek into a high-level course. This experience can give students a general idea of content and rigor before signing up for investing in full MBA programs. It allows students to see if they are ready for the commitment.
Taking a MOOC will also give professionals the ability to add credentials to their resume before or after a program, like an Online MBA. These certifications and courses are a great way to add knowledge and expertise without committing to a two-year program. Students taking MOOCs also have the opportunity to add the experience to their Online MBA application, showing effort and excitement for advanced learning.
Which Free Online MBA Courses should I take?
Some students might be trying to figure out which free courses they should spend the time pursuing. There are actually many reasons why a student would pursue a free Online MBA course like a MOOC. These online courses are great for professionals who want to brush up on some business skills or even learn something new. For example, business analytics is one of the top driving factors in business today. How are your skills in this area? Pursuing an online course can be a good foundational step. And there are many advanced courses in business analytics for the professionals who want to grow their skills.
Some professionals might want to brush up on their foundational business knowledge before starting an MBA. Maybe it has been a few years since taking statistics in your undergrad. Taking a free online course is a stress-free way to brush up in that area. In fact, statistics is one of the most technical and challenging courses in Online MBA Programs, many prospective students could benefit from a general overview of the subject before diving head-first into a full master's program.
There are also professionals who might not know what specialization to pursue in an Online MBA program. Do you want to specialize in marketing, analytics, healthcare, or international business? Taking free courses in a few different subjects can help prospective students decide which coursework path to take.
Top Universities Offering MOOCs
You might be wondering, what types of universities offer MOOCs. Some of the most prestigious schools in business, tech, healthcare, and science offer free courses. Here are some worth noting for future Online MBA students:
University of California, Irvine
The University of California, Irvine has one of the most prestigious Business Schools around, the Paul Merage School of Business. They offer top Online MBA programs. And for students who aren't ready for a full program, they offer many MOOCs. You can find them on Coursera offering courses and specializations. Some top UC Irvine free Online MBA courses include:
Blockchain Specialization
Conflict Management Specialization
E-Marketing Specialization
Arizona State University
The W.P. Carey School of Business at Arizona State University has been a long time leader in business education. They offer a flexible and accessible Online MBA program. You can find them on Edx and Coursera offering courses in a multitude of topics. Top free Online MBA courses include:
Introduction to Human Communication
Global Leadership and Personal Development
Global Marketing Strategy
Rice University
Standing elite as one of the top universities in Texas and the world, is Rice University. Their Jesse H. Jones Graduate School of Business is known for their top notch business degrees, including an Online MBA. They also offer MOOCs on Edx and Coursera in the areas of engineering, math, business, science, and more. Some of the free Online MBA courses include:
Investment Strategies and Portfolio Analysis
Introduction to Data Analysis using Excel
Relationship Management
Defining Diversity, Equity and Inclusion in Organizations
University of Michigan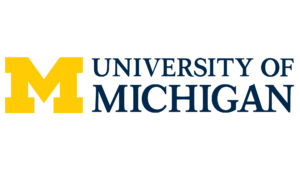 The University of Michigan has one of the most highly-ranked, prestigious business schools in the country: the Stephen M. Ross School of Business. They offer exceptional on-campus and online degree programs, including a top-ranked Online MBA. But they don't stop there. They also offer highly sought-after MOOCs. You can find hundreds of courses and specializations on Edx and Coursera. Some of their top free Online MBA courses include:
Managing Talent
Data Collection: Online, Telephone and Face-to-Face
Data Science Ethics
Finance for Everyone: Smart tools for Decision-Making
The sky is the limit when looking at free online MBA courses through these online learning platforms. Are you looking for classes in project management, business strategy, or the global business environment? There is one out there for you.
Other notable universities and business schools with top Online MBA programs that are featured on these websites include:
Duke University
Southern New Hampshire University
Pepperdine University
University of Florida
Indiana University
Action Plans
Free Online MBA classes have many benefits for prospective Online MBA students, as well as those who are nearing the end of their master's or bachelor's degree. What you need to do is define your why, what, how, and when.
Why?
First define your why. Why do you want to pursue a free online course? Do you want it for personal development? Are you wanting to brush up on a subject before starting a program? Are you looking for a way to narrow down what degree and subject you want to pursue? Narrowing down your why will be a big help in directing your decisions.
Many MOOCs can transfer into usable credits, so looking into credible sites such as those listed may be a practical first step towards choosing your Master's of Business Administration program.
What?
Next, you need to start searching. You need to look at possible Online MBA Programs that you want to pursue in the future. Do those schools have any courses you could take? These online courses could give you some insight on their programs. Do you want to take general classes or specialized courses? Beginners or Advanced? This is a time that you can let your curiosity and imagination have fun. In fact, ask yourself, what class sounds fun?
How?
Once you have some subjects and schools highlighted, you can choose which company you want to study with. You can also choose if you want to audit the course for free or pay for the credential. Some schools even offer specializations, which include multiple courses. And remember, before you get started with a free online course or any Online MBA, be sure that you have the technology necessary for success.
When?
When do you want to start? The great thing about these free online courses is that there is always something that is offered. So, why not start now?
Overall, MOOCs provide a high-level educational experience with a low investment. This allows students to test out graduate-level business courses with less pressure. However, full Online MBA degree programs offer support, networking opportunities, interactive learning experiences, and alumni connections that cannot be surpassed.
If you are in the process of researching Online MBA Programs, you have come to the right place. Our How To Choose an Online MBA article offers excellent insight on this topic as well. If you are planning to earn an OMBA, remember that there are many options that can help reduce your tuition costs. You can learn more about How To Pay For An Online MBA here.
Related Resources:
Guide to Online MBA
Guide to a Hybrid MBA
Highest Paying Online MBA Specializations
Top Business School Podcasts
Top Reasons to get an Online MBA
Alternatives to an Online MBA
How to Choose an Online MBA?
How do I Pay for an Online MBA?
How much does it cost to get an online MBA?
Top Online MBA Programs