There is no doubt that earning an Online Master's of Business Administration takes commitment, time, energy, and financial resources. If you are considering earning an Online MBA, you may be wondering how long it takes to complete this versatile degree. There are many Online MBA formats and timelines. While this allows students to find a program that truly works for their schedule, it can also be really overwhelming to consider all of the possibilities. Here are a few facts to help you plan for how long your online MBA will take.
Traditional Programs
Online MBAs that follow a traditional schedule generally take two to three years on a part-time basis. Many offer an option to work at your own pace and extend this timeline if needed. Those who chose an online program due to a need for flexibility will find a traditional structure desirable.
Accelerated Programs
Accelerated Online MBAs typically cater to busy professionals seeking to finish their degree quickly or those who have just completed their undergraduate degree and are hoping to quickly enter the workforce with authority. Every program is unique in regards to admissions requirements, but most accelerated programs are set to a 12 to 18-month timeline. This format is ideal for students who are very driven and have time in their schedule to fully commit to a heavy course load throughout their degree.
Cohort Style
Cohorts offer many benefits, including building strong relationships with peers and having an exact plan from the beginning. Cohort-style programs can fall under the traditional or accelerated timeline. But because they require all students to work through the program simultaneously, that can be problematic for some. These programs often have fewer start dates throughout the year, require that you work through the program at a set pace, and in general, do not have as much flexibility as other Online MBA options. This option is excellent for those who need accountability but may not be the best fit for those desiring a work at your own pace.
Structure
The idea of finishing an online MBA quickly is certainly appealing. Something to consider along with the timeline and format of prospective Online MBAs is the structure for classes. A few questions to look into are:
How many classes are taken per semester?
Are classes taken simultaneously or one at a time?
If I have a family or life emergency, can I choose to pause my curriculum plan?
Is there an option to test out of courses based on previous knowledge?
All of these questions can help you better decide what type of program is best for you, whether you are hoping to finish your degree as fast as possible or need a bit more time.
Accreditation
When searching for an Online MBA, it is essential that you do your research in terms of quality and credibility for your program. Our article, How To Choose an Online MBA, is a great place to start. Another important step is to be sure that your prospective programs carry accreditation from either the AACSB, ACBSP, or IACBE. Many programs will attempt to draw students in with speedy graduation timelines or extensive ones. While this is great, if the program itself does not provide high-quality instruction, you will not gain all of the benefits to be had from completing a Master's of Business Administration.
Start Dates
Start dates vary from program to program. Some schools offer rolling admissions and the ability to start an online degree as soon as you are accepted. Others may only have one start date per year. And there are still others that offer three to four starting points following traditional school semesters. This is another area that is simply a personal choice. Programs with one start date per year are not necessarily more prestigious; they may just follow a cohort style. Either way, if you find an online MBA that meets all of your desired criteria, it may be worth it to wait if the start date is a semester or so away.
Admissions Deadlines
If you are thinking about starting an Online MBA, it is important to consider admissions deadlines. Some programs choose their students nearly a year in advance! Because of this, it is important to be mindful of admissions deadlines and have all necessary documents, tests, and references prepared.
Action Plans
Get Prepared For The Application Process
Making sure that you are prepared for admissions is one of the best things you can do to speed up the process and overall experience of reaching your Online MBA goal. Not every program will require the following suggestions, but if you have them ready to go, it will make the application process less stressful in the long run.
Things to have when you are ready to apply for online MBA programs:
A completed four-year degree with transcripts
Two to three years of work experience (some programs accept those who have not entered the workforce at a full-time capacity yet)
A professional resume that demonstrates growth
Two letters of recommendation
Statement of purpose
If you are wondering how to increase your analytical writing skills, verbal skills, or quantitative skills, our articles can help.
Prioritize Your Schedule Before You Get Accepted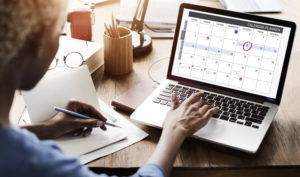 Embarking on the journey of earning an online Master's of Business Administration is a powerful step towards future opportunities. With that step comes a high level of responsibility. Online MBA students must be self-led and organized. They must also have enough flexibility of time in their overall schedule to study and prepare for exams and group projects. You can begin working on this skill when you prepare for the GMAT/GRE. This can look like
Creating a study schedule.
Setting up a place to study.
Making sure to have study supplies such as workbooks, pencils, and a working computer ready.
Discussing expectations with friends and family.
Clearing out non-essential commitments from your schedule.
Adjusting your work schedule if needed.
Earning an online Master's of Business Administration is a worthwhile investment of your time.
According to U.S. News and World Report, the average starting salary for MBA grads in 2021 will be over $87,000. This is 11.3% higher than the average starting salary for those with an MBA in 2020. This increase shows the demand for fields like finance, insurance, and real estate.
Related Resources:
Top Online MBA Programs
What are Accelerated Online MBA Programs?