Maybe you've contemplated getting your MBA, but you're just not sure how you'd have the time between working full-time and family obligations. Perhaps you've even enrolled in an MBA program and taken a course or two, but the long commute during rush hour traffic after you'd been at the office all day made you perform a personal cost analysis on the sacrifice of your time. An online MBA may be the perfect solution for you! Online MBA programs offer convenience, and a more harmonious balance between work, life, and school, while still allowing you to achieve your goals of earning those three letters that can change your career trajectory.
What is an Online MBA?
An online MBA (Master's in Business Administration) is a graduate-level business degree offered via the internet. This distance learning degree commonly features courses in core business areas, such as accounting, business analytics, entrepreneurship, ethics, finance, operations management, marketing, negotiation, leadership, organizational management, and strategy.
Programs may require as few as 30-credit hours but may stretch up to 60 credit hours. Some programs offer a comprehensive curriculum, but many programs allow students to explore individual interests through elective credits or customize their degree with a specialization. The online MBA may require a thesis or capstone project during the final semester prior to graduating. In these projects, students must apply the skills they have learned throughout their studies to complete a complex business plan or solve a real or fictitious business problem.
History of Online MBAs
We can access the internet through our cell phones today with the click of a button, so it's hard to imagine a time before the internet was common in most households. Let's travel back to 1994; only about two percent of homes had internet access. This is also the same year Athabasca University's Centre for Innovative Management launched the first online MBA program with its inaugural class of 65 students. This Canadian university was ridiculed by many scholars who thought the program would be unsuccessful and ultimately result in financial disaster for the business department. It turns out Athabasca University had incredible foresight. Since this pioneer distance learning MBA program, online MBAs have swept the nation, and a large majority of business schools now offer an online option. Currently, it seems like every time you turn on the TV there is a commercial about online learning.
Do employers respect Online MBAs?
Times have changed and online learning is leading the way in higher learning. Employers now recognize there are many reasons why an individual would pursue an online MBA. By completing a degree fully online, employees can continue working full time. This is a win-win because the employees have grown their academic knowledge of business concepts and their real-world work experience. Many online MBA programs even require professional work experience as a prerequisite to being accepted into their program. It doesn't make sense to hit the pause button on your career in order to accelerate it. An online MBA allows you the best of both worlds! Employers will most likely not even know you earned your degree online unless you tell them because diplomas and transcripts generally look the exact same as your peers who earned their degrees on-campus. One exception is if the university issuing your degree is fully or primarily online. However, these tend to be for-profit universities and less credible in general.
How do I Choose the Right Online MBA Program?
Accreditations and Distinctions
An online MBA is a major investment in time and money, so it is important to ensure your program is accredited. The three main business school accrediting bodies include the American Council for Business Schools & Programs (ACBSP) , the Association to Advance Collegiate Schools of Business (AACSB), and the International Accreditation Council for Business Education (IACBE.) The prestigious AACSB accreditation is considered the gold standard in business education. Less than five percent of all business programs in the world meet the stringent standards to achieve this elite accreditation.
Another tangible measure of the school's reputation is the distinctions it has received. The Princeton Review publishes an annual ranking of the Top 50 Online MBA Programs based on factors such as affordability, career outcomes, rigor, and innovative technology. U.S. News also ranks Best Online MBA Programs. These rankings are composed of five distinct components: Engagement, Expert Opinion, Faculty Credentials and Training, Services and Technologies, and Student Excellence. Q.S. is another highly reputable source for rankings of the world's best online MBA programs. In 2021, 57 schools were included in the ranking, with more than half of those in the United States.
Specializations and Certifications
Ask yourself what is your end goal; to start a new business venture, move into an upper-level management position, or acquire a new skill? These questions will guide you to selecting a specialization or certification that will benefit you the most. For example, if you have general business experience in the insurance industry, but you'd like to work for a hospital in the future, you should earn a concentration in Healthcare Management. According to the Princeton Review, the most in-demand MBA specializations are General Management, International Management, Strategy, Consulting, Finance Leadership, Entrepreneurship, Marketing, Operations Management, and I.T. Management. Students can also tailor their degrees with specializations in many other facets of management, including Human Resources, Cybersecurity, Supply Chain, and Project Management. Energy, Sustainability, Hospitality, and Innovation have also emerged as popular concentration options in recent years.
Specialty certifications can be added to an online MBA to give you a professional edge. Some of the business certifications that can move your resume to the top of the pile include Chartered Financial Analyst, Confluence Certified Recruiter, Financial Risk Management, Six Sigma, and Project Management, Professional. These certificates can typically be taken in lieu of elective credits, minimizing the need for additional hours. The choice is yours! You are the master of your own fate. You are about to embark on a journey of endless possibilities.
Elective Options
Electives are an exciting way to round out your online MBA education. These courses can also help you discover hidden talents, newfound passions and create unforgettable experiences. Some of the most intriguing options available include the University of Michigan's The Science of Success: Who Succeeds, Who Doesn't and Why; the University of North Carolina at Chapel Hill's Leading Diverse and Inclusive Organizations; and the University of Minnesota's Nudge: Improving Decisions with Health, Wealth, and Happiness. If you're wondering if you might like a particular topic, but aren't quite ready to commit to a specialization, try out an elective in that field.
Executive MBAs
Seasoned professionals who are focused on taking their career to the next level can pursue an online Executive MBA. The online EMBA is designed for business managers employed full-time. The cohorts entering this specialized program have years of business experience, so courses emphasize advanced leadership skills rather than general business concepts. Students are able to immediately apply the skills they learn from classes at their workplace, and class projects are often able to be tailored to the student's current job. Many of these online programs are self-paced to accommodate busy work schedules. However, students are usually required to attend a few immersion sessions throughout the course of their degree. Immersion sessions generally meet on-campus from Friday evening through Sunday and include workshops, team-building activities, breakout sessions, and networking events.
Hybrid MBAs
The bulk of your class assignments will be completed online in Hybrid MBA programs. However, like the EMBA, you will be required to attend regular residential immersion sessions on campus consisting of team development activities. During residencies, students have the unique opportunity to meet classmates, professors, and even businesses. International residencies may also be offered for elective credits.
Completion Time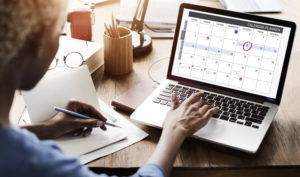 Online MBA programs vary in length, so finding a program that matches your timeline is important. Accelerated programs are extremely intense and can often be completed in as few as ten months to one year. An accelerated option is great for someone seeking the fastest path to advancement but may be overwhelming for someone who has several obligations. Students employed full-time are recommended to complete a part-time MBA program. Full-time students typically enroll in three courses per semester and graduate in approximately two years. Part-time students generally take one or two classes per semester and complete their degree in about three years. Most programs allow you to enroll part-time or full-time and to select the number of courses you'd like to take each semester, as long as you complete the entire program within six years.
Asynchronous v. Synchronous Format
Big words right? Online courses can be offered to students in an asynchronous or synchronous format. Asynchronous learning allows you to choose when you log into the online platform to complete assignments. Lessons may be pre-recorded, and you are able to view these at your convenience. This format is ideal for students with hectic schedules who need the flexibility to log in at different times throughout the week.
Synchronous courses require you to attend classes at a set time from any location with internet access. You will see your professor and classmates live-time. This is a great option if you thrive off of lively class discussions but live too far from the campus to attend classes in person. Another important factor to consider is whether your courses will be taught by a professor or a teacher's assistant. Professors will be able to draw from professional experiences and offer a real-life perspective. Many students learn differently and there are great options when you are looking at Online MBA programs.
Affordability
An online MBA doesn't have to break the bank. One advantage of enrolling in an online degree program is students often don't have to pay out-of-state tuition, which can be quite costly. However, you should closely examine what expenses you will be expected to cover. Sometimes online programs have fees associated with using the campus, such as computer labs, fitness centers, etc. Since you will not be utilizing these facilities, try to find programs that don't require you to pay for these extras. In the 2021 edition of U.S. News and World Report's publishing of the 10 Most Affordable Online MBA Programs, the lowest hourly tuition rate was $251 per-credit-hour from Northeastern State University in Oklahoma.
Check in with the financial aid department at your university to find out about scholarship opportunities for online students and any grants you may be eligible for. Depending on your status at your job they might be willing to help pay as well. Employers can deduct up to $5,250 annual maximum for tuition reimbursement programs. Research if your state offers tax breaks for employers who offer to pay for graduate studies. Don't let the cost hinder you from taking your career to the next level.
How do I Succeed in an Online MBA Program?
Time Management
Online MBAs require self-motivation and excellent time management skills. Your professors will not remind you to turn your assignments in and track you down when you don't; that's your responsibility. In order to set yourself up for success, it is imperative to create an organizational system that works for you. After receiving your syllabi for the semester, will you record exam dates and project due dates on a paper planner, or is there a calendar or to-do list app you'd prefer to use?
You should also make sure to set aside enough time to study. Many students have the misconception that online courses are easier but may be surprised to find out they can be equally as rigorous as their on-campus counterparts. Are you a morning person that rises early and prefers to cross an assignment off your to-do list so you have the whole day ahead of you? Maybe you head into the office early each morning, so it's best for you to study in the evening after work. Are your evenings consumed by soccer practice and ballet lessons, dinner, and bedtime routines? Late-night study sessions after the kids have gone to bed may be your most productive time. Studying doesn't have to happen when you only have a full hour to devote. Look for short breaks you have throughout the day and make use of these times. Listen to books and podcasts on your morning commute, spend a few minutes at lunch reviewing online flashcards, and pull out that textbook during sports practice and get through a few pages. If you are preparing for the GRE or GMAT, we have taken some time to look at GRE & GMAT Prep Apps that will aid in studying on the go.
It's also good to ask for help when you need it. Need to focus on completing a timed exam? Ask your significant other to keep the kids occupied or to cook dinner. Have a friend who insists you are so busy with school that she never sees you? Make big plans after midterms to celebrate. If you already work in a professional business setting, try to find a mentor at work who you can ask for guidance along the way or a co-worker who is also working on earning an MBA. You can serve as accountability partners. Finding an accountability partner on this journey is optimal for success.
Student Services
Online students may be fearful of making the journey on their own, but the best business schools have many built-in supports for their students. Professional advisors can ensure you select the courses you need for your program and help you stay on track from enrollment through graduation. Students who struggle academically can utilize online tutorials, assistance from the writing center, and visit with professors during their virtual office hours.
Networking is a major benefit of earning an MBA, but virtual networking events are gaining popularity with so many digital platforms and are offered through many business schools. Online students can also connect with their peers through online discussion boards. Online cohorts tend to be more diverse because students across the nation and even spanning the globe can enroll in the same program. Many business schools even feature online business organizations, so you can form friendships with your peers outside of class.
Many online programs even offer a culminating international experience with your MBA classmates if you prefer face-to-face meetings. Some programs also offer optional in-person orientations to kick off the start of your MBA experience. If you live in a large metropolitan area, there may even be meet-ups for virtual students. If these aren't currently available, ask your program director if they can provide you with contact info for peers or alumni who live near you.
Career services are also available with dedicated career counselors who understand the unique needs of online learners. Online workshops on resume writing, online branding, and mock interviews prepare students for advancement with their careers. Virtual job fairs and online job boards can help you land a management position in your current city or a brand-new destination. Guest lectures, webinars, and professional development sessions may also be available in a virtual format. It's easy to just log in to complete assignments, but then you are not getting the most out of your online MBA. Find out all of the perks your program offers and try to take full advantage. This will help you grow personally and professionally.
What are Future Trends for Online MBAs?
COVID has shifted the business landscape and normalized remote work options. Business schools are not newcomers to online education, though. The pandemic has given business schools an opportunity to evaluate and revamp their curriculum to ensure students are ready to tackle 21st-century challenges. In previous decades, asynchronous courses might have included a weekly reading assignment, a PowerPoint to view, a few online exams, and a term paper. Gone are the days of boring, rudimentary online courses! Modern online MBA degrees feature virtual internships, engaging career panels, business lab simulations, and collaborative consulting projects.
What Career Prospects will I have after earning an Online MBA?
You've completed your program and now it is time to take a leap of faith. MBA graduates have a plethora of career options available upon graduation due to the wide breadth of business knowledge they've acquired in marketing, leadership, accounting, and other vital business areas. Despite the 2020 pandemic, MBA graduates have fared well, and future career prospects look bright. The top five hottest jobs for MBA graduates include marketing manager, medical and health services manager, management consultant, financial manager, and business operations manager, according to U.S. News and World Report. These careers have higher than average job growth forecasts, low unemployment rates, and excellent salaries. U.S. News and World Report gathered data from 132 MBA programs, and the business schools reported the average starting salary for 2020 graduates was $101,034, including bonuses. According to the Winter 2021 Salary Survey conducted by the National Association of Colleges and Employers, MBA graduates are in high demand. Of the 139 corporations surveyed, approximately 20% plan to hire graduates with an MBA degree, the second-highest amongst all master's-level graduates.
How do I Apply for An Online MBA?
Applicants must have a minimum of a bachelor's degree, preferably in business. They will need to submit an official transcript conferring your degree. While many business schools will accept students who have a non-business undergraduate degree, these students may be required to complete prerequisites or bridge courses prior to enrolling in their first online MBA course. Students who have gained hands-on business work experience may be able to submit a professional portfolio or take a test in lieu of prerequisites. Some MBA programs require GMAT scores, but many programs offer a GMAT waiver if you meet the minimum number of years of professional work experience. Essays outlining future career goals may be an optional component but can make you a more competitive candidate. Executive MBA candidates are generally required to submit a resume highlighting their professional experience. Also, you may be required to pay an application fee. These fees typically range from $50 to $100.
Action Plans
READY! SET! GO! You've made it this far so we know you mean business. You know that an online MBA is attainable, has excellent ROI potential, and can lead to an exciting promotion! Now, it's time to create a list of schools that meet the criteria most important to you, such as tuition or specialization options, and research their application deadlines. As you begin working on your applications, prioritize those with the earliest deadlines. Find out if the programs you plan on applying for require supplemental documents, such as GMAT scores, an essay component, or letters of recommendation. If you need to submit GMAT scores, register for an upcoming test date and set aside time to study. Request letters of recommendation from your boss or previous professors early enough to give them ample time to write these. Document the dates you submit all application materials. Soon, admissions letters will be pouring in, and you'll be on your way to earning your online MBA! Write the vision and make it plain! You are ready!
Related Resources:
Guide to a Sustainability Online MBA
What are Accelerated Online MBA Programs?
Best Marketing MBA Jobs
Highest Paying MBA Concentrations
Top MBA Admissions Consultants